The JetLag® Watch
The Perfect Gift for the Frequent Traveler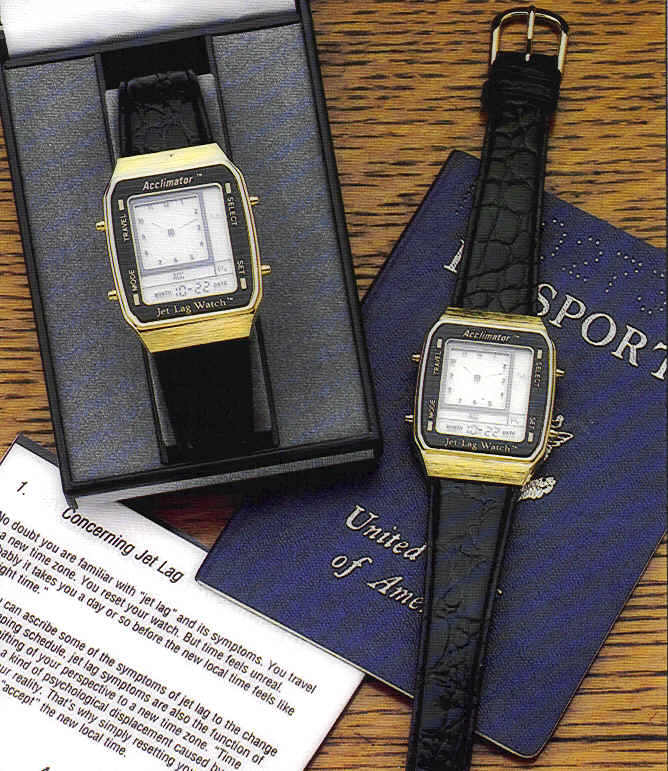 Contact Us At
1-617-965-7010
The JetLag® Watch gradually transitions you from the time in your departure city's time zone to the correct local time in your destination's time zone...while you fly! This allows you to acclimate slowly to the new time zone over the course of several hours, and that eliminates Time Zone Shock, the feeling that the new local time somehow isn't real.
Simply enter the time at the destination, the length of your flight, press the travel button, and watch the JetLag® Watch speed up (if you're flying east) or slow down (if you're flying west) to ease you into the new time zone over the course of your flight. By the time you arrive at your destination, the JetLag® Watch automatically resumes operation at the normal rate, and you are fully psychologically adapted to the new time zone.
Packaged in an attractive gift box, the JetLag® Watch comes with a 30-day money back guarantee and a one-year limited warranty.
At $149.95, plus $9.95 for shipping and handling, the JetLag® Watch is the perfect gift for the frequent traveler or anyone who likes a great gadget.
Place your no-risk order today. We accept Visa, MasterCard, American Express, Discover and direct transfer payments through the Paypal system. Please allow 5 business days for processing of all orders.
Simply click here
to place your order online or call 1-617-965-7010 from 8 AM to 6 PM Eastern time for more information.
If you'd like to know more about this novel technology, to read the (now expired) patent.
The Jet Lag Watch Company - 4 Allston Street - West Newton, MA 02465 - 617-965-7010